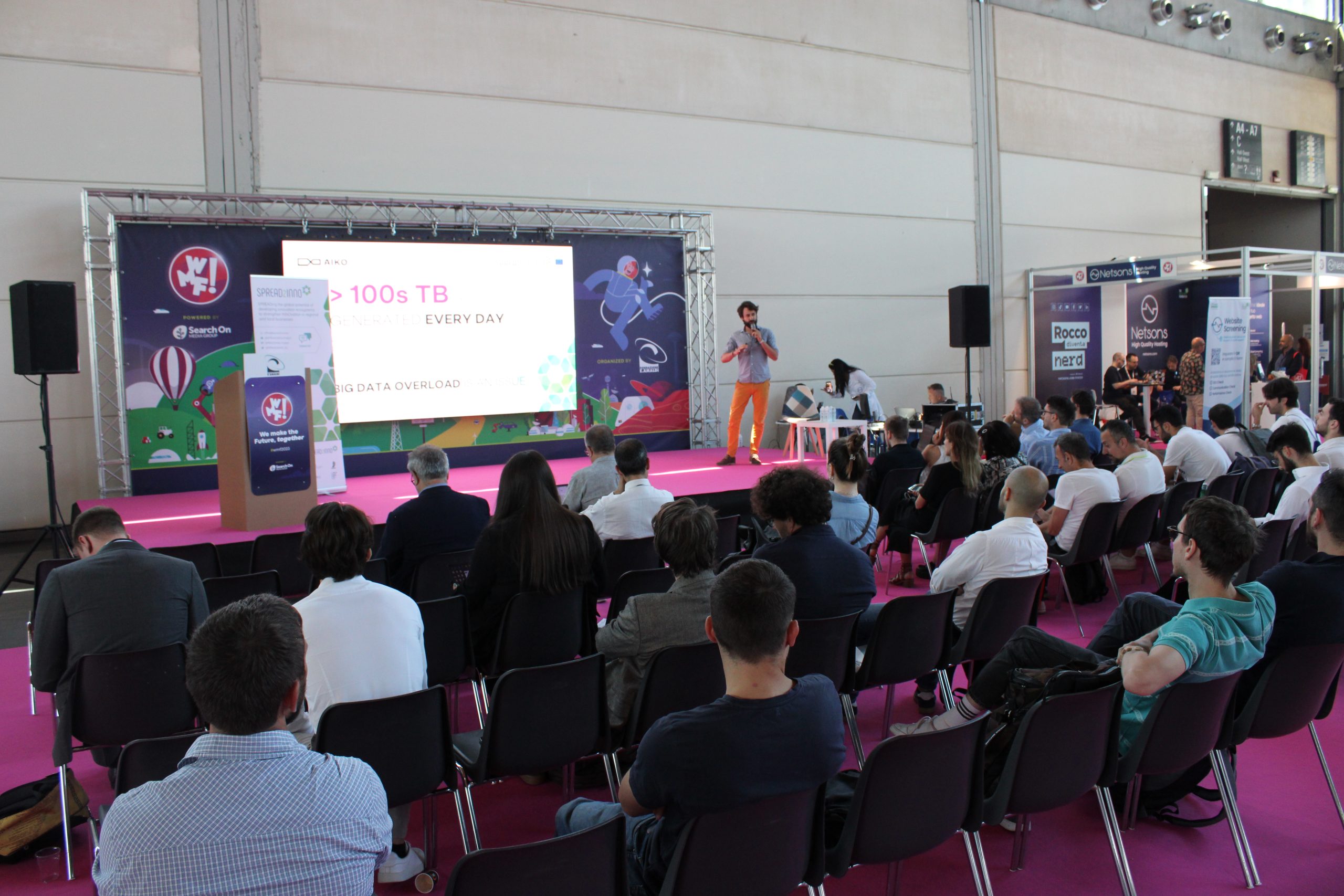 SPREAD2INNO Press Release Second Local Event Rimini
SPREAD2INNO's journey continues: the successful second SPREAD2INNO event in Rimini, Italy
The EU-funded project SPREAD2INNO continues to close the geographical innovation gap: after the first local event in Thessaloniki, the project's journey proceeded and reached Rimini, Italy. The second SPREAD2INNO local event took place in conjunction with the We Make Future 2023 (WMF), on 15 and 16 June: a variety of workshops, roundtables, and pitching sessions ignited the spark of creativity, fostering collaboration and paving the way for innovation to thrive.
In this article you can find the key takeaways from the sessions and the list of the 20 startups which participated in the event.
Workshop on "Endless paths to innovation: an overview of accelerator programs and financial instruments"
This workshop, organised by SPREAD2INNO, involved 3 experts from low and moderate innovation regions, specifically Italy, Bulgaria and Greece. The group of experts consisted of Eleonora Lombardi, Head of the Business Applications Department at Fondazione E. Amaldi (FEA) and Project Coordinator of SPREAD2INNO, Ina Todorova, Project Coordinator at Cleantech Bulgaria, and Panagiotis Konstantinopoulos, EU Programmes Manager at Patras Science Park (PSP); the panel was moderated by Giorgia D'Agostinis, Technology Analyst at Fondazione E. Amaldi.
The speakers presented an overview of their evolving country with a focus on the opportunities, acceleration programs, innovation clusters, and financial instruments available to stimulate innovation in local businesses. After an analysis of the main technology trends that local ecosystems are focusing on, the challenges of the Italian, Greek and Bulgarian innovation ecosystems that still need to be solved were presented and how local organisations, including FEA, Cleantech and PSP, are working to solve them trying to close the geographical gap.
Roundtable on "Two-speed Europe: operator's experience between the ups and downs of innovation"
The roundtable involved an interesting discussion between the following experts: Lorenzo Scatena, Secretary General of Fondazione E. Amaldi, Jacopo Losso, Director General of EBAN, and Katrin Singer-Coudoux, Researcher and Project Leader at Fraunhofer IPK. The event was moderated by Henry Nicolai Buxmann, who is a Research Associate at Fraunhofer IPK.
The speakers from different innovation ecosystems exchanged success stories, methodologies and best practices to give startups, SMEs, and other companies a complete overview of the opportunities to strengthen innovation in regional and local businesses. Key takeaways from the session included the significance of government interaction in fostering a stable and successful innovation ecosystem, through, i.e., tax incentives, research grants, and easy access to incubators and accelerators. In particular the removal of investment barriers and reduction of risks are vital actions to foster an active scene of investors and especially stimulate angel investments. Further, it was emphasised that cross-regional cooperation between institutions and / or startups can lead to an improvement of low and medium innovation ecosystems.
The pitch competition
Central to the 1st Italian SPREAD2INNO local event was the pitch competition, in which 20 valuable Italian entrepreneurs showcased their groundbreaking ideas and solutions, captivating the audience of the WMF event. The best startups will have the chance to receive further support from the project gaining also the access to the SPREAD2INNO Academies. During the multiple pitching sessions the air was filled with the entrepreneurial spirit ignited by the following 20 participating startups and SMEs:
ECUBIT places innovation at the centre of its market strategy and qualifies as a system integrator capable of supporting its customers' Digital Transformation process.
Apsolut focuses on providing state-of-the art scientific products for practitioners and the general public to tackle problems related to snow.
MEEO uses multispectral/hyperspectral satellite data for the most different purposes such as air quality monitoring, land use classification, rainfall rate estimation, urbanisation monitoring, and crop-yield estimation.
Agricolus mission is to optimise agronomic practices by supporting farmers and agricultural operators with simple and easy-to-use Agri Tech tools, thanks to cutting-edge technologies of data collection and analysis.
Involve Space provides a pseudo-satellite platform and AI software for upstream and downstream applications supporting and enabling access to space.
Studiomapp specialises in Location Intelligence helping organisations to extract insights from geospatial data using artificial intelligence on satellite data and aerial imagery.
TITAN4 specialises in processing and analysing optical and radar satellite images with InSAR technique in a fast, cost-effective and accurate way.
NHAZCA provides cutting-edge solutions such as Terrestrial and Satellite SAR Interferometry and PhotoMonitoring analysis, together with geological and engineering services with a particular attention for a sustainable and responsible interaction between human activities and the natural environment.
Park Smart aims to make life easier by developing smart technology services in order to create new urban mobility models for smart cities.
Revolv Space designs, manufactures, and tests the next generation of small satellite components enabling continuous payload operations and the full monetization of space assets.
EVOLVO offers solutions that make bicycling easy and safe for daily use and in perfect harmony with the environment.
CeMente is active in the fields of business consulting as a Non Executive Advisor, management and efficiency of internal resources (human and technical), scouting and testing of new business opportunities, and green topics in particular hydrogen.
Latitudo40 combines the skills and expertise of a large company with the passion and ability to innovate a user-centred design lean organisation. The company has created the easiest and fastest platform to turn satellite imagery into geospatial information to support everyday decisions.
EuroSoft operates in the innovation fields of aerospace research and development, remote control, and industry 4.0. The company realises technological systems and provides management/technical consulting.
ALI is a leader in the design and development of innovative technologies for re-entry from space and contract services for scientific experiments in microgravity conditions.
DigiSky aims to transfer innovative technologies from the ICT and automotive sectors into the general aviation industry offering embarkation solutions that are easy to install, low costs and can be applied in several different fields.
Astradyne is developing origami-inspired solar panels for aerospace applications leveraging FRET (Flexible, Reinforced Electronics with Textile) technology.
Camelot promotes active, digital citizenship and creates new value for the community through secure, legally recognized online voting and participation tools accessible from any device.
AIKO develops algorithms infused with artificial intelligence to increase the autonomy of current space missions.
SUNSPEKER provides smart aesthetic solutions for photovoltaic markets.
Five selected startups won the competition and will have the opportunity to take part in our SPREAD2INNOAcademies. The winners were Astradyne, Revolv, ALI, Park Smart and Camelot. To learn more about the individual startups please visit the official SPREAD2INNO website. The competition was a resounding success, with participating companies showcasing a diverse range of forward-thinking solutions to address pressing challenges. The presentations were marked by their creativity and commitment to making a lasting impact.
Overall, the second SPREAD2INNO local event was a success, igniting the entrepreneurial spirit, connecting important innovation ecosystem stakeholders, and supporting promising startups.