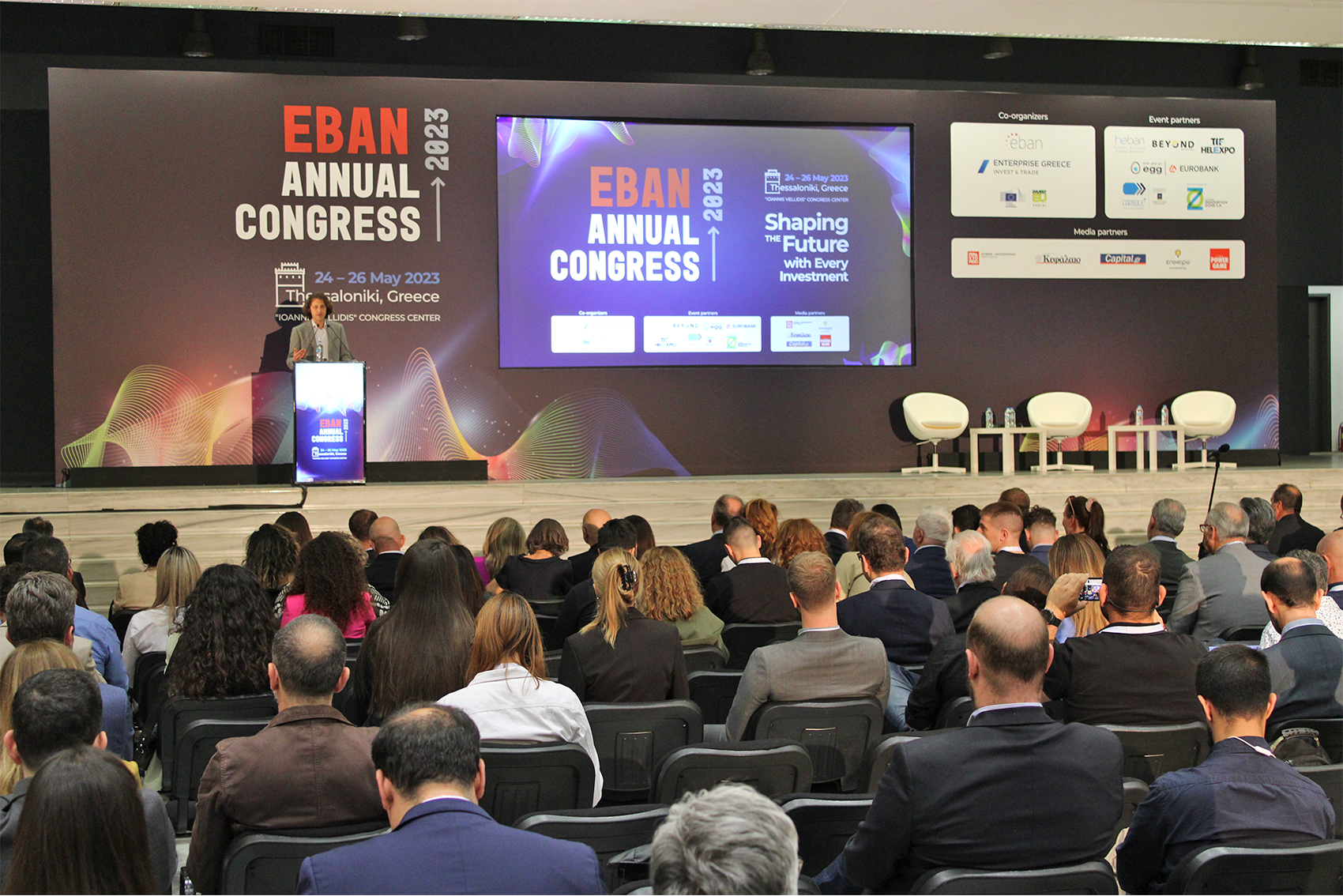 SPREAD2INNO Press Release First Local Event Thessaloniki
The First SPREAD2INNO event at the EBAN Congress 2023 turned out a success
The EBAN Annual Congress 2023 took place on 24-26 May and it hosted the first local event of SPREAD2INNO. The Congress counted more than 300 participants from all over Europe and beyond, from entrepreneurs to investors to policy makers, and was a great stage to kickstart the program of our EU funded project. The whole Conference staged more than 20 sessions, 3 of which organised and managed by SPREAD2INNO specifically, on top of the pitching sessions powered by SPREAD2INNO as well.
In this article you can find the key takeaways from these 3 sessions and the list of the 20 startups which participated in the event.
Entrepreneur Workshop: "Presenting your risks as an opportunity to early-stage investors"
The workshop was held by Eileen Modral, Investment Manager at Oxford Innovation Finance, who is an accomplished business mentor and experienced advisor to innovative start-ups. Participants learned valuable insights on presenting risks as opportunities to early-stage investors.
Key takeaways from the session included the importance of validating products or services through client and sales channel interactions to mitigate risks, setting prices that cover costs to minimise investment needs, and recognizing that fundraising often takes longer than anticipated. The workshop also emphasised the significance of investors offering more than just monetary support, prompting entrepreneurs to conduct due diligence on potential investors. When pitching, it was advised to focus on selling the business rather than the product, while maintaining a genuine belief in the product to mitigate investor scepticism. Lastly, the workshop recommended outsourcing distracting services to keep the team focused.
Panel: "How to Grow your Startup and Investment Ecosystem"
This panel, moderated by Eleonora Lombardi – Project Coordinator of SPREAD2INNO, involved two rounds. The first one was joined by Annukka Mickelsson, President emerita FiBAN, member of EBAN impact committee; Nikolaos Tsoniotis, Managing Partner at Ideas Forward; Ami Dagan, Principal at Random Forest VC; Roy Zwebner, Managing Partner at ThessINTEC; Marta Huidobro, President at WA4STEAM – Women Angels 4 STEAM. While the second one saw the participation of Lorenzo Scatena, Secretary General at Fondazione E. Amaldi; Ellie Diakanastasi, Executive Director at Elevate Greece; Sam Gardner, Director of Enterprise Works at University of York City College; Angelos Manglis, Founder at Atlantis Consulting SA; Alfredo Coppola, Co-CEO at US Market Access Center.
The speakers from different innovation ecosystem shareholders shared their experience related to the growth of the startup and investment ecosystems in their various different countries.
A thriving startup and investment ecosystem drives economic growth and job creation. It attracts talent and investment, and drives innovation. However, assessing the environment, setting goals, securing a talent pool, providing access to funding, securing proper infrastructure, and support are key and challenging factors.
With this panel discussion SPREAD2INNO provided the toolkit to entrepreneurs and innovation managers on the one hand to navigate the investment landscape when accessing fundraising opportunities and on the other to provide meaningful support when setting up a startup and investment ecosystem.
Two keynotes set the event off. The first explained how Elevate Greece, an initiative launched by the Greek government intended to identify and support promising startups, is supporting the growth of the local ecosystem. The second keynote illustrated how Finland became a thriving environment for innovation.
Then, the first 5 panellists joined the stage to discuss the angel investing point of view in Finland, Greece, Israel and Spain, followed by the other 5 who brought the academic and industry perspective in Greece, Italy and the US.
Several inputs were provided about how to invest with syndicates, how to deal with venture studios and how to enable female entrepreneurship and the next Unicorn. On top of this, investing in space, university support, missing skills and access to the US market were other hot topics discussed.
Key takeaways from the discussion include understanding the various ways business angels invest, such as solo or through syndicates, and the corresponding structures. It was suggested that the EU should adopt the Israeli model to enhance cooperation among stakeholders and foster a vibrant ecosystem through collectivity and physical proximity. Universities were recognized as a valuable source for nurturing talent and creating world-changing companies. Startups and their support organisations face challenges in gaining exposure and support from the corporate world for pilots and proof of concepts. Additional training is needed to help startups approach business angels effectively, emphasising honesty, transparency, learning from failure, and celebrating success. Lastly, there is a recognized need for increased participation of female founders and investors in the ecosystem.
Entrepreneur workshop: "Scaling up your startup"
This workshop was held by Julian Costley, a professional chairman/NED, who is an expert on raising capital, and an occasional angel investor. During this session he shared his top 10 factors for growth & success:
SUCCESS: To say that you have reached success, you should do something impactful.
CLARITY OF PURPOSE: your brand is the sum of personality and promise, i.e., the way that you behave and what you actually deliver. You can gather customers and build your brand pyramid.
INSIGHT: Lifetime value and acquisition cost follow opposite trends and the crossing point between the 2 lines is the limit to be among the top 5 in the market. You can build your growth in an inverted path.
GROWTH: To understand the prospected growth of your company you could track comparative companies overseas and contact them to explore how they did it, while talking to your customers.
DEFINING MOMENTS: Life is like a roller coaster for companies too, e.g., Lloyd Dorfam, Chairman at Travelex, who went through 6 almost failures before succeeding. Bring investors on a journey when pitching, start with something exciting.
CONTROLLING RISK: Companies are like sailing boats, i.e., those that win are those that do less mistakes. Create a mind map from idea to exit with all the things that could go wrong. Also, have a dashboard to control cash.
SHAREHOLDER VALUE: When you are looking for investments, eliminate poison pills in the ownership. The optimal time for funding is when there's an uptick in value (revenue rate increase, significant de-risk, demonstrable need to fuel growth)
YOUR LEADERSHIP: A good business leader is like a music conductor, i.e., always looking at the next step. You should listen to your team while being in control, especially over the board, and making decisions. You should open all files to the team, but not staff files.
EXIT EARLY: Move as soon as possible into the zone in which you could accept an offer for your company and it would not be too bad. Entrepreneurs usually have multiple ideas and if they deliver shareholder value, investors are going to invest in the next one.
GENERAL ADVICE:

If you have got good engagement with the customers, you are in a good position, don't obsess.
You should get a mentor, because companies with a mentor do better (3x).
Don't lie. Investors could discover it during Due Diligence and they won't invest because of trust, not because of the issue.
Look after yourself. It is true that it is difficult to have a work-life balance, but don't let that affect your health.
People should be worth so much more after working with you.
The pitch competition
The centrepiece of the first SPREAD2INNO local event was the pitching competition. 20 valuable Greek companies were hosted at the EBAN Congress and presented their business model, vision, and teams.
Get to know the 20 startups which participated in the event:
Athletopia: Athletopia is a sports tech venture set to digitise and supercharge the global running event industry, as our platform helps organisers to turn a one-day-event into a 100-day data-driven journey.
Terra Robotics: OMEGA – The autonomous organic weeding robot for high density seeded crops
Campsaround: Campsaround is an outdoor community that assists travellers to book online eco-friendly stays
Swaplanet: Bringing the circular economy to parents everywhere
Finloup SA: A Device-as-a-service fintech solving over-indebtedness and financial exclusion by enabling people to flexibly lease tech products with a subscription instead of buying them
AlongRoute: "We help cargo ships sail safer, greener and save up to 25% of their OPEX/ voyage with our AI-powered marine weather forecasts."
CollegeLink: 360 Career Marketplace for High Specialized Professionals (Tech, Construction, Manufacturing, Business)
Tourmie: Tourmie is an all-in-one Guest Experience application that helps hotels and vacation rentals enhance their guest experience, streamline their communications, and increase their revenue.
Kleesto: "Intelligent Booking Administration Software"
Pleione Energy S.A.: A modular All-in-One energy storage solution that empowers apartment owners and tenants to reduce their energy costs by 30%, without sacrificing comfort or room space
ComeTogether: NFTs with utilities: ticketing, music, collectibles and memberships: enabling the sale of physical and digital experiences
SPIN Analytics: Automation in Regulatory Credit Risk Modelling
Caroo: Caroo is un-distressing the stock of Car Rentals and utilising the sitting assets through Car-sharing.
REALIS: Property fragmentation and selling through a platform in accordance with the Greek law
JADBio – Gnosis DA S.A.: JADBio accelerates drug discovery and precision medicine through automating Machine Learning and Biomarker Discovery. It is designed for life scientists, catering the needs of Research institutions, BioTech, and Pharma Companies and is able to disrupt every drug discovery stage.
THRUWIND: Next generation of safer and more efficient small wind turbines based on patented jet-engine design.
Aisthesis Medical: Aisthesis Medical revolutionises acute care with its AI-powered clinical decision-support system for hemodynamic management and complication prediction, saving lives and improving patient outcomes.
Project DENN: A decentralised news platform that connects media professionals and citizens by enabling content authenticity and provenance.
MetaBio: Unlocking the Value of Human biosamples
VERTLINER: VERTLINER is a field robotics company developing A.S.S.E.S.S.™, an integrated solution consisting of an autonomous aerial robot and an AI-powered cloud platform to accurately inspect and monitor assets and infrastructures in GPS-denied environments.
Four selected startups won the competition and will have the opportunity to take part in our Innovation Academies. The winners were Athletopia, Terra Robotics, Campsaround, and Swaplanet. To learn more about the individual startups please visit the official SPREAD2INNO website.