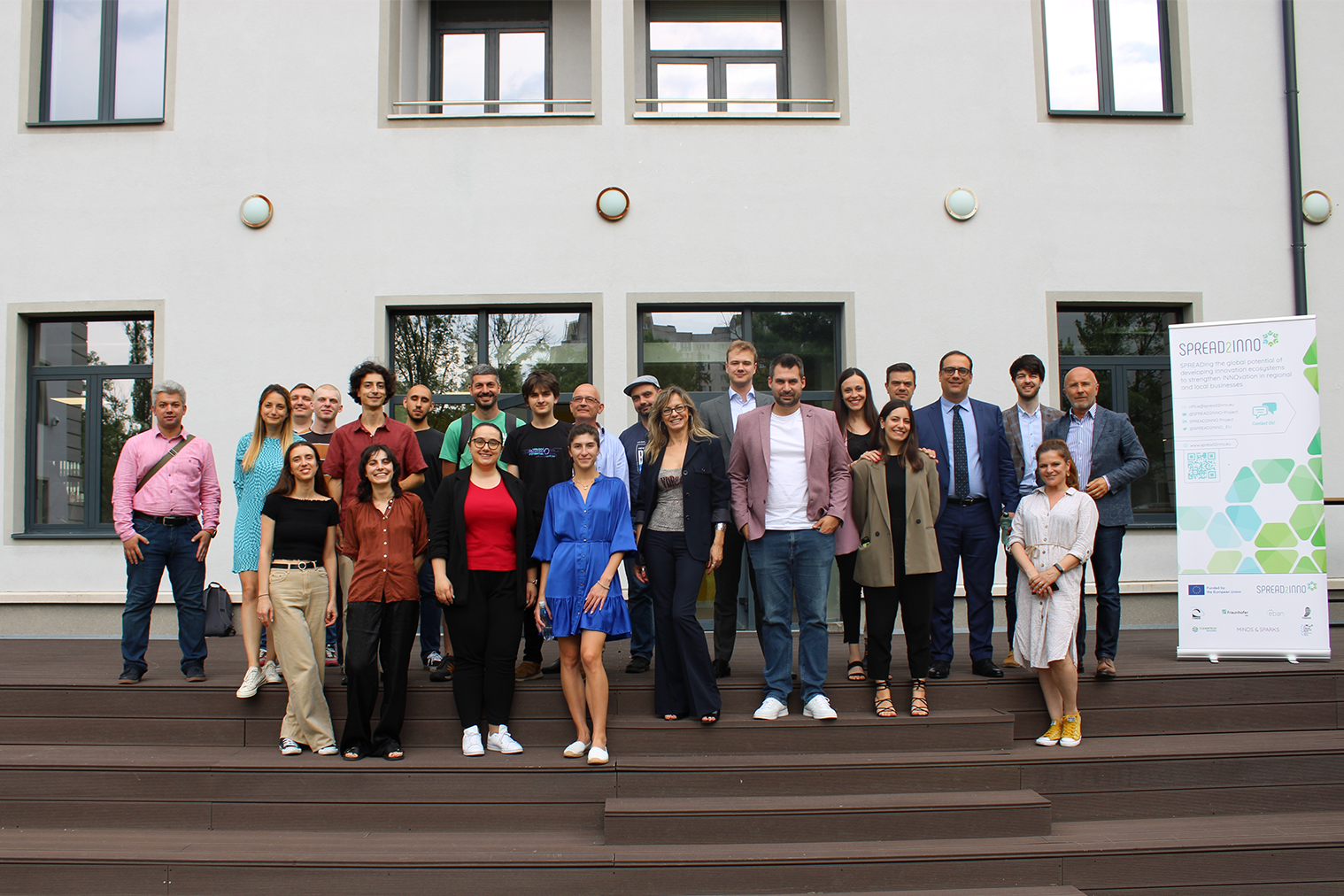 SPREAD2INNO Press Release Third Local Event Sofia
SPREAD2INNO: Fueling Startup Innovation in Sofia
The first SPREAD2INNO local event in Bulgaria generated a surge of entrepreneurial enthusiasm at the Sofia Tech Park on June 21-22, 2023. The event brought together budding entrepreneurs, experts and innovation enthusiasts for two days of learning, networking, and collaborating.
As the actual participation rate was lower than expected and planned, a second, smaller event was organized on August 11, 2023, hosted by the Pitch2Pitch Season 3 finalists and organized by the Networking Premium Coworking Space.
Both events commenced with a series of engaging workshops that laid the foundation for growth companies. Attendees had the opportunity to dive deep into the world of accelerator programs and could learn how to craft a compelling pitch. The sessions served as a springboard for the participating startups' journey towards success.
Growth Company Fundamentals: Understanding the Fundamentals of Scaling a Business
In a dynamic workshop centered on "Growth Company Fundamentals," participants gained valuable insights into the intricacies of scaling a business for long-term success. Scaling is defined as "the sustainable expansion of operations, customer base, and revenue while maintaining profitability" and was explored in great depth. The workshop emphasized how important it is to build a strong foundation – by ensuring product-market fit, effective customer acquisition, and customer retention. Participants also discovered diverse growth opportunities for startups, including market expansion, product diversification, and strategic partnerships. Market research and customer insights were highlighted as critical tools for uncovering hidden growth potential. A comprehensive growth strategy roadmap was presented, stressing the importance of identifying clear, measurable objectives aligned with business goals and the need to adapt and prioritize growth opportunities. Effective execution, resource allocation, and data-driven decision-making were underscored as key components of successful scaling, ultimately equipping participants with the knowledge and tools needed to achieve growth and profitability.
BOOSTing StartUP growth in the South East region
This session was held only in the first SPREAD2INNO event in Sofia and was led by Dr. Vivian Sophou, Business Creation Manager at EIT Manufacturing CLC South East.
She explained the role of the European Union, as represented by the European Institute of Innovation & Technology (EIT), in the Southeastern European innovation systems and put a particular focus on the manufacturing sector. One of the main points was that innovations can succeed by combining expertise from the industrial sector, universities and RTOs and by fostering an environment where start-ups, scale-ups and SMEs can thrive.
One of the goals of EIT Manufacturing is to connect strong and modest/moderate innovators across Europe, which was also the reason why their participation and sharing of good practices in the SPREAD2INNO event were so valuable.
The Perfect Pitch: Crafting a Compelling Pitch to Investors
"The Perfect Pitch" delved into the art of crafting compelling pitches to attract investors. Investors are primarily interested in pitches that promise a strong return on their investment, and storytelling is a powerful tool to engage investors emotionally. A compelling pitch structure was outlined, consisting of the opening, problem identification, solution, market analysis, and value proposition stage. The significance of a clear and concise business model, revenue streams, cost structure, and scalability was emphasized, but the key is a unique value proposition. Techniques for identifying and articulating a unique value proposition were shared, including customer research, competitive analysis, emphasizing benefits over features, emotional appeal, quantifiable results, and the unique selling proposition (USP). The workshop also covered the essential components of a pitch deck, how to design visually appealing slides, best practices for effective delivery, and techniques to manage nervousness and build confidence. Crafting a compelling pitch is crucial in the quest for investor support, and this workshop provided participants with the tools and insights needed to excel in this endeavor.
Overview of Accelerator Programs and Financial Instruments for Scaling
The next session included a comprehensive workshop that explored into the landscape of financial instruments and support programs vital for startup scaling. Participants were introduced to a multitude of opportunities, including co-working spaces, maker spaces, and fab labs that foster creativity and innovation. Startup competitions provide a platform for visibility and mentorship, while angel investors and venture capitalists offer financial backing and strategic guidance. Government programs and grants vary by region and can provide startups with resources, mentorship, and funding. Online communities serve as virtual support networks, connecting entrepreneurs with like-minded, non-local peers and valuable resources. In Europe, Horizon Europe, the European Institute of Innovation and Technology (EIT), the European Innovation Council (EIC), the European Regional Development Fund (ERDF), the European Structural and Investment Funds (ESIF), and the European Investment Fund (EIF) present diverse opportunities for funding and support at various startup stages. These financial instruments and support channels offer abundant options, each with specific criteria and geographic reach. The entrepreneurs were urged to scrutinize these avenues closely, ensuring alignment with their startups' visions and developmental phases, while also exploring local and regional opportunities.
Panel session on Connecting Innovation Ecosystems: How to grow in Europe? Successful practices for supporting the innovation ecosystems in Europe
The Roundtable discussion, expertly moderated by Mariyana Hamanova, Executive Director at Cleantech Bulgaria, brought together a panel of distinguished plenary speakers. This lineup included: – Lorenzo Scatena, Secretary General of Fondazione E. Amaldi;
– Eleonora Lombardi, Head of Business Applications Dpt. at Fondazione E. Amaldi;
– Henry Nicolai Buxmann, Research Associate at FRAUNHOFER IPK;
– Maria Nakova, Head of the European Digital Innovation Hub in Construction;
– Vivian Sophou, Business Creation Manager at EIT Manufacturing CLC South East;
– Kristina Eskenazi, Chairwoman of Health & Life Sciences; and
– Mariyan Marinov, Business Development Manager at Sofia Tech Park.
The speakers shared profound insights into their respective innovative ecosystems, emphasizing success stories, methodologies, and best practices. This knowledge exchange provided invaluable insights for the participating companies, offering a comprehensive understanding of the available opportunities for fostering innovation in regional and local businesses.
Strategic Partnerships: Building Collaborative Relationships for Scaling
In this workshop, the participants learned how to build strategic partnerships to drive growth and scalability. The session underscored the significance of these alliances, highlighting their potential to unlock new markets, access technology, and reach untapped customer bases. Partnerships were revealed as a tool that not only accelerates business expansion but also offers a competitive edge in the market.
To identify the right strategic partner, participants were guided to seek like-minded entities sharing a common vision and long-term goals. Complementary skills, mutual compatibility, and equitable benefits were highlighted as key criteria. This strategic approach ensures that partnerships are built on a solid foundation.
For the budding entrepreneurs, key takeaways included the value of cross-promotion, co-branding, joint marketing campaigns, collaborative product development, and resource sharing. Strategic partnerships aren't merely about growth but also about leveraging collective resources and expertise to create synergistic advantages. The workshop equipped attendees with the knowledge and tools to forge impactful alliances, essential for the scaling journey.
The pitching competition
The main aspect of the SPREAD2INNO events is the pitching competition. All participating companies had the chance to present their business and their pitch in order to be evaluated by the jury.
Event 3.1
FoodObox presented their platform for fighting food waste in EE.
Today is an app for commuters built on open principles and promoting sustainable active urban mobility.
TAMtech is a certified aircraft component maintenance company, specialized in oxygen, slides and fire extinguisher bottles, which presented the design of innovative equipment and workshop fabrication.
FindTheBike aims to breathe new life into forgotten bicycles stored in basements and attics and to return them to the streets of cities by offering easy rental services to anyone in search of a bike.
Atlas Agro owns the patented zero-waste technology of the ATLAS product range, not only achieving high results in landscaping, but doing so while reducing the risk of soil poisoning, decreasing direct and indirect greenhouse gases, restoring soil structure and contributing to the green and sustainable future of our cities, homes and society.
MindsetDesign helps young athletes improve their mental performance with the first-ever app that combines physical with mental training.
Neuromorphica is building third-generation AI chips by using hybrid neuromorphic technology.
LEO AERIAL SYSTEMS is focused on the creation and introduction of an autonomous e-VTOL mass market model to enhance the development of a green and safe European Air Mobility Economy, giving people the freedom of daily travel by saving hours in traffic.
BioAccess offers an innovative biometric crypto wallet.
Axyles supports people in discovering events, creating communities and exploring the flourishing culture of Sofia.
SmartFarmRobotix is building next-gen autonomous farming rovers.
Event 3.2
ThinkAhead empowers students through mentorship and innovative learning experiences for a brighter future.
EcoWare is a bio-based promotional products made partially with agave fibers.
Fynt connects all business bank accounts, accounting software, and ERPs to accelerate decision making, extract & enrich data, and automate reconciliation.
Cyrcl is revolutionizing shared micro-mobility solutions.
Zoa App is an innovative relationship-support app
Matematiko is a fast-paced multiplayer game that supports people in learning mathematics
ICEpro creates protein ice cream – for everyone who wants to enjoy delicious food and sweets, but also cares about their health.
VODORASLO is developing a domestic photobioreactor device for air purification, using algae as the main resource.
MultiArt offers a membership model where customers purchase a single card that allows them to enter multiple cultural events and exhibitions in their city.
Push Marketplace is a fashion marketplace app where people can buy and sell fashion items, explore styles and discover wardrobes
In total, five startups were selected to continue onto Phase 2 of the project and to participate in the SPREAD2INNO European Academies, namely: AtlasAgro, Axyles, TAMtech, WeRide.Today and Vodoraslo.
Spread throughout the SPREAD2INNO events, networking breaks and luncheons created a vibrant atmosphere, fostering interactions and the exchange of ideas. Attendees, including startup founders, investors, and industry experts, took full advantage of these opportunities to expand their professional networks. It was a forum where collaborations and connections were forged, opening the door to potential partnerships and future growth.
The SPREAD2INNO events in Sofia not only provided a platform for knowledge exchange but also served as a catalyst for the Bulgarian startup ecosystem. It encouraged innovation, collaboration, and growth, demonstrating the potential of startups to drive economic development and change the business landscape.